Image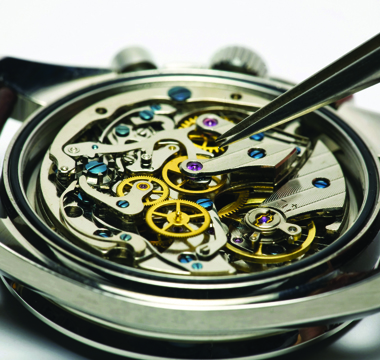 Additional Services
Cleaning & Inspection

Crystal Replacement

Gasket Replacement

Replacement Battery

Watch Band Repair

Watch Overhaul
Watch System & Crown Repair

Water Resistance
Rolex Watch Repair & Cleaning Services
As the leading provider of luxury watch repair and cleaning services, Rolex is committed to uncompromised professionalism. Selected Fast-Fix's authorized repair service centers use only genuine Rolex parts, and our highly trained watchmakers are experienced in servicing all types of Rolex watches.
If your watch needs a new battery, bracelet adjustment or crystal polishing, our Rolex-affiliated service center can take care of it. We also offer a full range of watch repair services, including:
Water resistance testing
Timekeeping accuracy adjustments
Refinishing and polishing
Replacement of worn or damaged parts
Service center certification
No matter what type of service your Rolex watch needs, we will restore it to its original beauty and functionality. Schedule a repair appointment today and experience the Fast-Fix difference!
About Rolex
Rolex is a Swiss luxury watchmaker founded in 1905 by Hans Wilsdorf and Alfred Davis. Their goal was to create a wristwatch that was more accurate than pocket watches, which were commonly used at the time.
They achieved this by designing a watch with a self-winding mechanism worn on the wrist. Rolex's watches are considered some of the most accurate and reliable in the world, and their timepieces are prized for their elegant design and luxurious materials.
In addition to manufacturing its own line of watches, Rolex also provides watch repair and cleaning services through its authorized service centers. These centers — including specific the Fast-Fix locations — use only genuine Rolex parts and staff highly trained watchmakers experienced in servicing all types of Rolex watches.
Why Choose Fast-Fix for Rolex Watch Servicing?
When you bring your Rolex watch to Fast-Fix, you can be confident that it will be serviced by a team of highly trained professionals dedicated to providing the highest quality repair and cleaning services.
In addition to our expert watchmakers, our Rolex-affiliated service center is equipped with the latest tools and technologies to ensure we service your watch to the highest standards.
Why Have Your Rolex Serviced?
Regular servicing is important to maintain your Rolex watch's accuracy and performance. Over time, dirt and debris can build up on the movement components, affecting the watch's timekeeping accuracy.
Servicing also helps prevent wear and tear on the watch's parts, which can eventually lead to damage or breakage. Having your Rolex serviced regularly can extend its lifespan and keep it functioning like new.
How Often Should Your Rolex Watch Be Serviced?
Rolex recommends servicing its watches every five to seven years to maintain their accuracy and performance. However, depending on the type of watch and how often you wear it, some watches may need service more frequently.
How Long Does It Take to Service a Rolex?
The time it takes to service a Rolex watch depends on the type of service required. A basic servicing (such as a water resistance test or bracelet adjustment) can usually be completed in a few hours.
More extensive services, such as a full disassembly and cleaning of the watch movement, may take several days to complete.
What Are The Signs That a Rolex Needs Servicing?
A few signs may indicate that your Rolex watch needs servicing. If you notice any of the following, it's time to bring your watch in for a check-up:
Not keeping accurate time
Running faster or slower than normal
Stopped working altogether
Water damage
Damaged or broken bracelet or strap
What Is a Complete Rolex Watch Overhaul?
A complete watch overhaul is a comprehensive service that covers everything from a basic water resistance test to a full disassembly and cleaning of the watch movement. This type of service is typically performed every five to seven years or as needed depending on the watch's condition.
When you bring your Rolex watch to Fast-Fix for a complete overhaul, our expert watchmakers will perform the following services:
Water resistance test
Bracelet adjustment
Movement disassembly and cleaning
Replacement of any worn or damaged parts
Final assembly and testing
After a complete Rolex watch overhaul, your watch will be as good as new and telling time just as precisely as when you first put in on your wrist.