OUR COMPANY: FAST-FIX JEWELRY AND WATCH REPAIRS®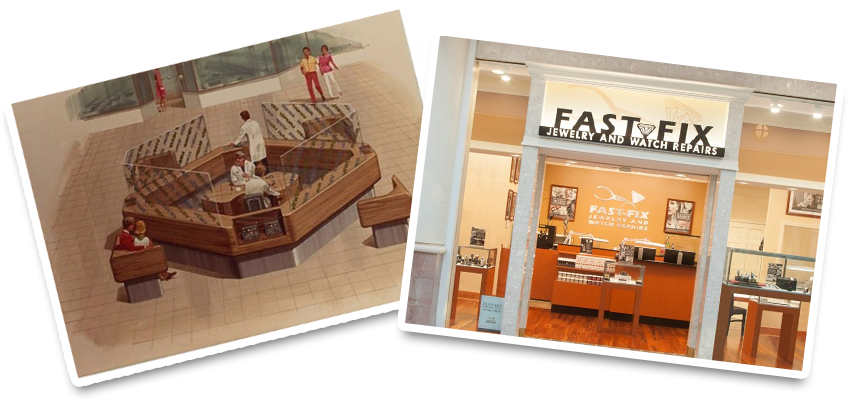 "Leaving jewelry or a watch behind to be repaired is unnerving for most people. It doesn't matter if it's a sentimental piece of jewelry, of little value, or an expensive item, a simple repair or an extensive service. It's stressful for a customer to be separated from their jewelry." This was a statement our founder had heard his father repeat a thousand times.
Our founder did not set out to become a jeweler as his father had. "I may have grown up the son of a jeweler, but I had no patience or interest in becoming one. I went to college to study education and business administration. I wanted to make my mark in the business world." And he did, becoming a successful businessman in New York early in life.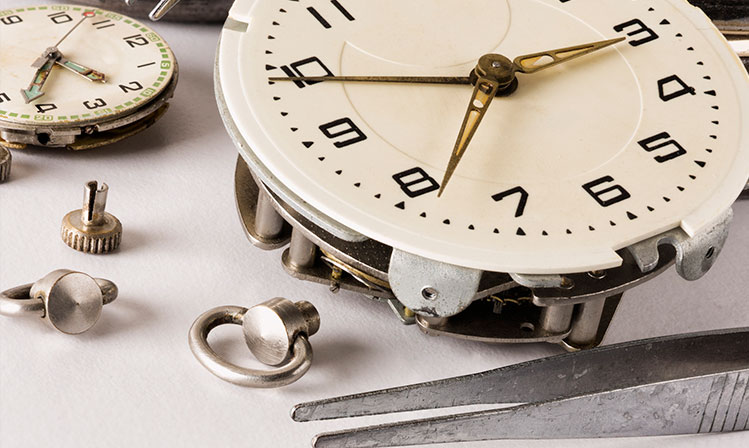 The 'Ah-Ha' Moment
It wasn't until a visit home for Thanksgiving in 1984, during a business brainstorming session with his brother, that the solution to his father's dilemma finally hit him. "I was trying to imagine what a store would have to look like if customers were going to be able to meet the expert jeweler or watchmaker working on their item, and see with their own eyes, their watch or jewelry being repaired. The idea of a kiosk, something that is open on all sides, came to mind. That was the break-through moment."
He understood that, in order for a store to be successful, he was going to have to create a new model, one focused on service, convenience, transparency, and fast jewelry and watch repairs. Combining money from his bonus along with a small amount in savings, the father and son opened the first store (kiosk) that December in Century III Mall, in West Mifflin, Pennsylvania. 
"We were set up across from Santa Claus. By the third day the line for our business was about as long as the line to see Santa. That's when I truly understood how satisfying and important it was for customers to have their jewelry or watch repaired while they waited." Over the next two years they would open four more stores in the Pittsburgh area.

Franchising: The American Dream
It was easy to identify that the key to running a successful jewelry and watch repair store was to secure locations in high traffic areas, so it is easy and convenient for customers to have their jewelry repaired.
After replicating his vision for himself, he considered the possibility that other people might share his same desire; be their own boss. He discussed his idea with a friend, and shortly thereafter began exploring franchising his jewelry and watch repair business.

A Boca Raton-Based
Jewelry and Watch Repair Company
The Fast-Fix company, based in Boca Raton, Florida, began franchising domestically, with the first franchise store opening in Dallas, Texas in 1987. Since then, more than 130 franchise locations have opened across 26 states, and in Ireland. The company is planning to expand in other markets throughout the U.S.
People interested in franchising are drawn to the Fast-Fix brand because it's a recession-resistant, year-round, service business that won't be made obsolete by the Internet, unlike other brick-and-mortar retailers. Also, you don't need experience or a background in jewelry and watch repair to be a successful franchisee.
Each franchise location is staffed with professionals skilled in delivering fast, high-quality repairs, and providing friendly, courteous customer service. All of our franchise owners come from diverse career backgrounds.

THE FAST-FIX DIFFERENCE
Many repair companies send your valued possession somewhere else to be serviced. At Fast-Fix, our skilled jewelers, watchmakers, watch repair professionals, and smartphone technicians perform most of our repair services onsite in our store. Not only does this allow for high quality services to be completed in a more timely fashion, it also provides our customers with the added protection and peace of mind. 
*Some services vary by location