Image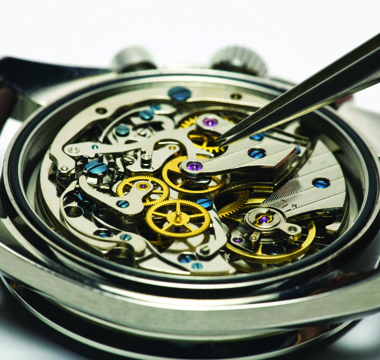 Additional Services
Cleaning & Inspection

Crystal Replacement

Gasket Replacement

Replacement Battery

Watch Band Repair

Watch Overhaul
Watch System & Crown Repair

Water Resistance
REPAIR IT TODAY. WEAR IT TONIGHT.
With more than 30 years of watch repair, restoration and watch sales* experience, we've completed just about every type of repair imaginable. From a quick battery replacement, to removal of links, to a new watch band, to a complete overhaul and replacement of the movement, with our on-site repairs services, we'll have you on your way in no time.
Fast-Fix also offers a full range of services to get your favorite timepiece up and running while you shop.
Band Repair
Band Replacement
Band Resizing
Battery Replacement
Complete Cleaning of the Watch Movement
Complete Watch Overhaul
Crystal Polishing
Crystal Replacement
Gasket Replacement
Link Additions or Removal
Restoration of Watches and Pocket Watch
Stainless Steel, Silver, or Gold Band Refurbishments
Stem & Crown Repair
Watch Cleaning & Inspection
Watch Engraving*
Watch Overhaul
Watch Repair
Water Resistance Testing
We repair most makes and models of watches including:
Bulova
Citizen
Cartier
G-Shock
Gucci
Omega
Seiko
Sport Watches
Swiss Army
Pocket Watches
Vintage Timepieces
EXCLUSIVE FAST-FIX BATTERY WARRANTY PROGRAM
At Fast-Fix, we only carry the highest quality PREMIUM BATTERY BRANDS and we offer a menu of optional Battery Warranties to fit your needs. We want to provide you with the added assurance that when your timepiece stops ticking, we will get you taken care of hassle-free and on your way in no time. For all the other companies out there that will replace your battery but not offer a warranty, you have to wonder what batteries they use and why they don't put their customers best interests first, like we do at Fast-Fix.