Image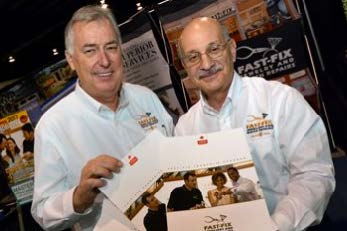 September 16, 2016
(From the Mississauga News, by Joanne Lovering)
     Eight-year-old Gerry Weber was walking to the Santa Claus parade when something on the snow-covered sidewalk flickered in the sunlight. He discovered that it was a lovely watch, so as he passed the police station he turned it in. In response, a life lesson with staying power and a strong business application was soon delivered to this young German immigrant.

"They took my name and address – if I had phone number I didn't know it – and I thought that was it," recalls Weber, now 65 and a successful serial franchisor. He was in Mississauga Sept. 10 and 11 at The Franchise Show introducing Fast-Fix Jewelry and Watch Repairs to Canadian entrepreneurs. "Several weeks or months later, we received a letter from Conn Smythe saying how much he appreciated me returning the watch." Smythe, owner of the Toronto Maple Leafs from 1927 to 1961 and builder of Maple Leaf Gardens, had just been the victim of a home robbery, and the timepiece was part of the burglar's haul. The back of that watch bore the inscription: "C. Smythe, World Champion Stanley Cup Winner, 1944-1945." In the letter, Smythe advised Weber that integrity would serve Weber well throughout his life – at work and at play.
To further thank Weber for his kindness, Smythe had the young boy picked up from his home in a large black car and driven in style to Maple Leaf Gardens. There, Weber watched a game, met the Maple Leaf players, received a team-autographed hockey stick and season's tickets. Then, Smythe gave Weber the biggest prize of all. He presented him with the lost-and-found watch as a heartfelt thank-you – and a hard and cold reminder that honesty pays.
"That message has stayed with me all my life, and I have taught it to my children," shares Weber. Weber says this life-lesson served him well as he went on to promote many famous North American names including Shoppers Drug Mart, Blockbuster Entertainment, AutoNation, Lady of America and Saladarity.          
     It is now part of a business mantra that he impresses on the people who work with him at Fast-Fix. The acronym he preaches is FITT, which stands for Fun, Integrity, Teamwork and Trust. "If you can live by that, you have a pretty good shot at being successful," says Weber, who for the last 37 years has lived in Fort Lauderdale, Florida. He graduated in business from Toronto's York University then moved to the U.S. after Toronto pharmacist Murray Koffler hired him to promote Shoppers Drug Mart south of the border. Weber explains that he recently joined Fast-Fix as chief operating officer after he was called him in as a consultant and saw the great growth potential.
"I am always up for a new challenge," he says. "I am too young to retire and I am not a golfer. The most fun I have in life is business. Learning about new businesses keeps me young. I like to learn what makes a business tick." Fast-Fix has 150 stores in the U.S., four in Dublin, Ireland and one in London, England. The franchise fee is about $49,900 (Canadian), and then the cost to build up the facility can range from $160,000 to $300,00, says Weber.
        It is an inspiration to small business people, as founder Mark Goldstein started the jewelry repair business in 1984 in Pittsburgh, Pennsylvania and, within 10 years, grew it to 84 outlets. At that time, he sold the business and walked away from it. When Weber came into the Fast-Fix a year ago, he hired back Goldstein to take care of franchise sales. "It was palpable the passion he had for the business," Weber explains. The pair were both on-hand to inspire local business people seeking a new endeavours.Weber says that they look for franchisees who are compatible with his FITT approach, with an emphasis on integrity. "Smythe referred to integrity as 'a weapon'," he shares. "That was a very interesting choice of words. But this advice has served me well all my life."
The letter from Conn Smythe,dated November 24, 1960:
Dear Gerald:

I want to thank you very much for returning my watch.
Your action has given me quite a lift. My dad, who was an Irish poet and not concerned about money, left me my biggest legacy when he taught me from my early youth that integrity was the greatest asset a man could have. I feel that any success I have had in life is due to this understanding. Integrity serves you in many ways, but mainly it gives you a weapon to fight with in this world, which most people are not equipped with, because so many today do not tell the truth. It also keeps you out of a lot of trouble because if you are honest not much harm can come to you and the decisions you make connected with yourself are, therefore, honest ones and even if they do not work out well any mistakes you make can be re-assessed and you know what you should do next time. I do not want this to sound like a sermon, but it is very nice to have a young Canadian like yourself show that you believe in the Golden Rule and also are a practitioner of the Ten Commandments.
I am leaving the City for ten days, but am having the watch cleaned up and checked to see that it is in good running order, and when I return I would like you to come to the Maple Leaf Gardens so I can give you this watch as a small token from myself and a practical demonstration that honesty is appreciated in the world today.
Kind regards.
Sincerely yours,
Conn Smythe