Image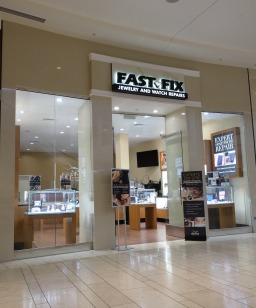 February 12, 2016
A 30-year-old Boca Raton-based jewelry and watch repair company plans to expand into Canada this year and grow the brand's international presence.
More than 150 Fast-Fix Jewelry and Watch Repair stores are open across the U.S., England and Ireland. But with a new chief executive aboard, the South Florida business is hoping to occupy more storefronts and kiosks in shopping centers across North America.
"We are looking to grow aggressively," Gerry Weber, Fast-Fix' chief executive officer said the brand's Westfield Broward mall store in Plantation. Weber's resume includes years as an executive for Blockbuster, AutoNation, fitness clubs Lady of America, former ownership of a chain of liquor stores, plus experience in corporate and franchise operations management. He joined Fast-Fix in May 2015.
Weber, who moved from Canada to South Florida in the late 1970s, sees franchise potential for Fast-Fix in Ontario, Toronto, Vancouver and other parts of Canada. He also wants to add shops in U.S. markets where the company only has a handful of stores. Fast-Fix's biggest footprint is now in California, Florida, Texas and Arizona, Weber said. The company owns two Fast-Fix stores while the rest are operated by franchisees.
Mariela Delgado Simonassi and her husband, Marcelo, co-own the Plantation store, another in Boynton Beach and one more in Wellington. They started as employees and eventually became franchisees after developing good relationships with customers, she said.
"We have customers that have been coming for years," Delgado Simonassi said. "They rely on you."
Fast-Fix' CEO is optimistic that his service business is not going to be made obsolete by the Internet, as has been the case with other brick-and-mortar retailers.
"This is not something you can easily do by mail," Weber said. "You are not going to send family heirlooms and your engagement ring to some unknown person a thousand miles away."
Delgado Simonassi said sometimes people are so protective of their jewelry that they ask to go to the back where repairs are made so they can keep an eye on the process. As the company grows, Weber said he'd like to switch things around and position repair stations at the front of stores for customers who want to watch the craftsmanship.
Fast-Fix repairs jewelry, watches, eyeglasses and even cell phones with cracked screens — a service that's been added based on consumer demand, Weber said. The company also resizes rings, and most repairs are completed in about an hour while customers shop around the mall, he added.
Nadine Gaston lives in Haiti but comes to South Florida every few months to visit family and friends. She stopped by the Plantation shop earlier this week after her watch stopped ticking.
"I can tell the time now," Gaston, 51, said smiling after a store employee handed her a watch with a new battery. Gaston had been to Fast-Fix three other times before to take care of other watches. She keeps going back because of the company's reliable service, she said.
"They do a good job," Gaston said.
Weber says Fast-Fix wasn't necessarily hurt by the recession, but rather benefitted from it since people who then had less disposable income opted to fix items they already owned instead of buying new ones. He says he isn't fazed by retailers who offer their own jewelry resizing after purchase.
"There's plenty of business for everyone," Weber said. "You just have to be better than everyone else."
mvalverde@tribune.com
Copyright © 2016, Sun Sentinel